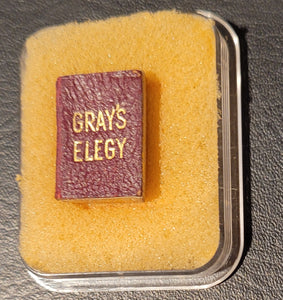 Thomas Gray's An Elegy Written in a Country Churchyard.
circa 1911 3/4" x 1/2" 96pp
This is perhaps among the rarest of the Bryce publications. Bound in maroon gilt stamped leather. Contained in a plastic case
"It's publication was advertised in a handout but it was thought not to exist until found and described in The Miniature Book Collector. One would be very lucky to find a copy of this rare book" Garbett. NB Garbett describes this as
bound in green leather.
Sold by a collector in a public auction at Bonhams, 9th November 2022.
#92