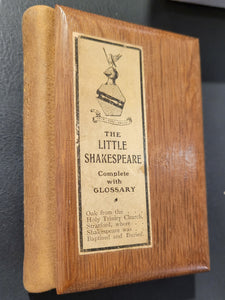 The Little Shakespeare-Complete with Glossary. c1908
4" x 287/8 x 7/8th with 37 Dramatic Plays -
Poems & Sonnets + Biography with Portraits +An Index of Shakespearian Phrases Complete in one volume.
+ Glossary+54 illustrations
Bound in oak from the Holy Trinity Church Stratford, where Shakespeare was Baptised and Buried. With a printed paper label adhered to the cover with title & armorial shield
etc. Cloth spine with gilt Art Nouveau decoration and 'Shakespeare's Complete Works, Gilt edges. Virtually mint with no Ex Libris, but with a penciled script outlining binding info.
[Ref: Item 41: "A catalogue of the Shakespeare exhibition held in the Bodleian library to commemorate the death of Shakespeare, April 23, 1616", Oxford, 1916, pp. 28)
[Ref: Item 6.7, "Brush Up Your Shakespeare-Miniature designer bindings from the collection of Neale M. Albert", 29 Jun-27 Jul 2012, University of Manchester's John
Rylands Library! Miniature, 32mo (approx. 10x7.5x2.2 cm 37/8, x2 7/8 x 11/16 in).Oak wooden boards with tan calf spine (see notes on the origin of the oak wooden boards). Binding strong. Both boards in near fine condition. Gilt title "Shakespeare Complete Works" and decorations on spine. Some light rubbings to the spine and boards. Label with title on front cover. All edges in gilt. Green cloth pastedowns. Internal pages clean and fresh. Four lines of neat ink inscriptions by previous owner on front free endpaper, about the origin of the oak wooden covers.
Collated complete: ffep (2), 34, 986, rfep (4)
An excellent well preserved copy of this rare and scarce miniature book, with special binding.
Very Fine. Sold by a collector in a public auction at Bonhams, 9th November 2022.
#No.15