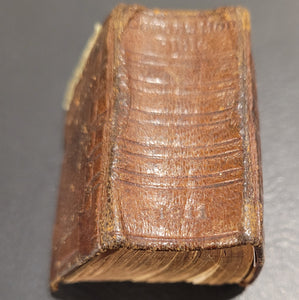 The Coronation Bible. c1911 The Holy Bible Containing the Old and New Testaments
Translated out of the Original Tongues... by His Majesty's Special Command.
Similar in size to the Allies Bible 1" x 1" x 1". 876 pp. Bound in tan leather and extensively tooled front and rear. Spine has five double bars and 'Coronation Bible'
embossed to top and 1911' embossed to bottom of spine.
Magnifying glass in leather, slipped into sleeve at rear of
bible.
Minor scuffing to top of spine corners, some old tape to upper rear cover, otherwise in good condition. - this is the much less common later bible of 1911, produced to celebrate the coronation of King George V.
FINE
 Sold by a collector in a public auction at Bonhams, 9th November 2022.
#46