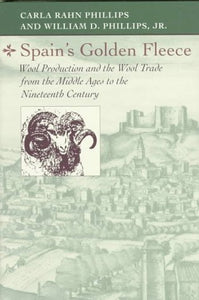 Title: Spain's golden fleece : wool production and ...
Binding: Hardcover
Dust Jacket Condition:  VERY GOOD
The study of Spain's early modern economic history has been dominated by interest in her New World empire -- by images of galleons returning home laden with gold, silver, and precious stones. But wealth generated from the New World accounted for only a small percentage of total income for the crown and private citizens alike. The vast majority derived from the Spain's agrarian economy, of which wool production formed an important part. Large-scale herding supported tens of thousands of families at all social levels and allowed a profitable use of land that was unsuited to agriculture. For centuries, wool production and trade arguably generated more foreign income than any other component of the economy. Even after the development of Spain's New World empire, the wool trade remained a crucial source of foreign exchange.
In Spain's Golden Fleece, Carla Rahn Phillips and William D. Phillips, Jr., offer the first authoritative history of Spain's vital wool industry. They show how wool was crucial both to Spain's domestic income and to the flourishing European textile industries that depended on the incomparable wool of Spanish Merino sheep. The authors begin by offering a broad and long-term look at the growth, dominance, and decline of the herding economy. They explain the components of wool production, from herding to shearing to preparing the wool for market. And they examine the evolution of the woolen textile industry in Spain and the export trade in raw wool.
The magnitude of Spanish wool production and its significance for the economy of Spain and the rest of Europe have never before been fully documented and analyzed. In following the rise, flourishing, and decline of Spanish wool production and the wool trade, Spain's Golden Fleece offers an important new perspective on the course of European economic history.