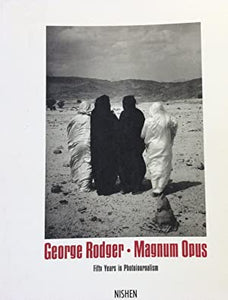 Title: Magnum Opus: Fifty Years of Photojournalism
Publisher: U.S.A.: 3Nishen Publishing
Publication Date: 1987
Binding: Soft cover
Book Condition: Very good, apart from gouged small crater in the margins of the photograph on the back cover and some discolouration from the removal of a short length of tape.
Edition: 1st
Signed: Signed and dated by the photographer
27 x 22 cms. .110 printed pages of duotone photographs. Signed and dated on title page by "George Rodger Sept. 1987" in flowing ink hand. A founder member of the Magnum Agency, Rodger (1908-95) chose to cover Africa & he was much more at home living among the Nubia of the Upper Nile "than in any city in the world".