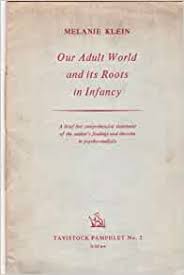 15 pages. Series title, Tavistock Pamphlet, number two.
Delivered before the Departments of Social Anthropology and Social Studies of the University of Manchester, May 11, 1959.
With ink ownership signature of Carole Satyamurti on title page. Carole (1939-2019) was a multiple award winning British poet, sociologist, and translator.  She taught at the University of East London and at the Tavistock Clinic, where her main interest was relating psychoanalytic ideas to the stories people tell about themselves, whether in formal autobiography or everyday encounters.