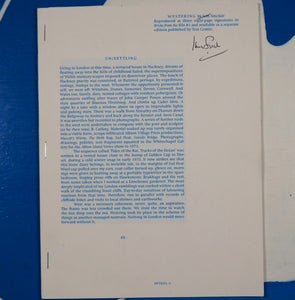 WESTERING. Iain Sinclair Publisher: [Hackney, London] : Test Centre, 2015.
Signed by Iain Sinclair on the front page.
Published in an edition of 150 copies.
"Reproduced as three eight-page signatures in Bricks from the kiln #1 and available as a separate edition published by Test Centre." Printed bookmark loosely inserted. Small mark on back from old price label removed.
WorldCat locates just four copies worldwide.