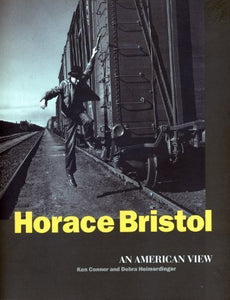 Title: Horace Bristol: An American View
Publisher: Chronicle Books, San Francisco
Publication Date: 1996
Binding: Soft cover
Book Condition: As New
Edition: 1st
In the tradition of the great photographic populists Alfred Eisenstaedt and Dorothea Lange, Horace Bristol used his camera to record the human, intimate moments in the grand sweep of history. Bristol's American view included the best and the worst of this century, from poignant images of the urban poor and migrant farm workers during the Depression to the battle scenes of World War II and compelling portraits of post-war Japan and Southeast Asia.

One of the first photographers for LIFE magazine, Bristol was tireless in his pursuit of the revelatory image. Wildly prolific in the thirties and forties, he later gave up photography, and his work languished in obscurity for nearly thirty years. Recently rediscovered, Bristol has come to be recognized as one of the most important photographers of the twentieth century.

This volume presents over one hundred twenty exquisitely reproduced duotone images by Bristol, ranging from his early San Francisco photographs to his last work, taken in Southeast Asia. Combining aesthetic purity with human interest, Horace Bristol's pioneering photography is imbued with an accuracy, strength of composition, and humility that is as striking today as it was groundbreaking in its time.
Review:
This collection will do much to resurrect the reputation of the California native who became one of Life magazine's first staff photographers, only to burn much of his work after being devastated by personal tragedy in 1956. Bristol languished in obscurity for nearly three decades before a quirk of fate prompted him to reclaim his legacy. Among the images salvaged for posterity here are pictures of the Golden Gate Bridge under construction, Depression era street scenes, farm laborers, assignments for Edward Steichen's special World War II photographic unit, and views of a bombed-out Tokyo.