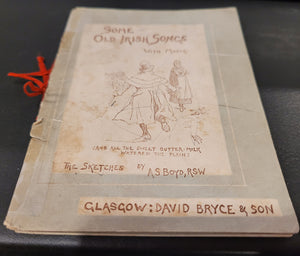 David Bryce & Son Catalogue, c1900
3" x 2" 30pp
63pp Covers colour aged but otherwise very clean and tight.
Bryce Sales Catalogue:
Rare illustrated sales catalogue from miniature book publisher David Bryce & Son, Glasgow, 1904 64 pages. Measures 3 1/2" x 2 1/2". Loads of information on Bryce's miniature volumes, including prices, binding
styles, book contents, case options, etc. Many illustrations. The catalogue has three sections: 1) The first 8 pages is an excerpt from a chapter about miniature books from one of the publisher's full-sized volumes and is titled "Jean Sma' Starts a Leebrary on a Sma' Scale." The accompanying cover illustration shows a man pulling several tiny books out of his pockets-2) The second section is titled "David Bryce & Son's Publications", 133 West Campbell Street, 1904, 24 pages. 3) The third section is a listing of the publisher's books in order of price, 31 pages. Booklet also includes publisher's full-size books and other products. A rare opportunity to own a complete, original Bryce catalogue.
Sample of Contents:
Bryce's Bijou Bookcase - 2 page spread with illustration and complete listing of the individual books in the set, including Mite Series. Thumb Series. Pearl
Series, etc. "Smallest Shakespeare in the World" - Ellen Terry Miniature Shakespeare in 40 Volumes with revolving
bookcase, Illustrated, 4 pages including sample Miniature Rubaiyat of Omar Khayyam, with specimen
specimen pages
page illustrations Thumb Series
Midget Series List of volumes in the series, case options and pricing (Smallest English Dictionary. German-English, French-English, Koran. New Testament, etc.) Illustrated The Smallest Bible in the World - "Mite Bible".
Illustration of specimen page, Binding choices with
prices
The Smallest Book of Common Prayer in the World - Binding options and pricing, Specimen page illustration Bryce's "Knowledge in a Nutshell" Series Golden Thoughts Series
Finger Post Series Tourist's Library
Size: 3 1/2" x 2 1/2" 64 pages. Glasgow: David Bryce
& Son, 1904
Condition: Excellent condition. This booklet was stored in the bottom of a box, underneath one of Bryce's "Tartan Series" books for over 100 years. The front cover has faint diagonal line impressions on it, transferred from the silk tartan binding of the book that lay on top of it. Top and bottom of some pages improperly cut, affecting the text on a few pages
Sold by a collector in a public auction at Bonhams, 9th November 2022.
#101