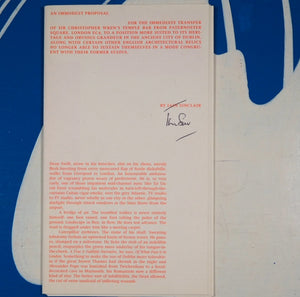 Title: 

An Immodest Proposal

PublishedDates:

2013

Size:

12 cm x 21 cm

Signed by:
A zine printed digitally in orange ink onto white paper. It contains both text and photographs. Three pieces of paper fold out to reveal the images. 
12 pages : illustrations (red and white)
"Published by Test Centre in 2013 on the occasion of the exhibition 'Temple Bar Gallery + Studios are Dead', Dublin 22 November 2013 - 25 January 2014"

Printed for an exhibition in Temple Bar Galleries + Studios in a limited edition of 400.
Signed by Iain Sinclair o front page.
"For the immediate transfer of Sir Christopher Wren's Temple Bar from Paternoster Square, London EC4, to a position more suited to its heritage and obvious grandeur n the ancient city of Dublin, along with certain other English architectural relics no longer able to sustain themselves in a mode congruent with their former status."

WorldCat locates 8 copies worldwide.