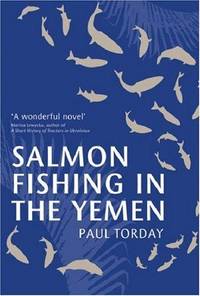 Title: Salmon Fishing in the Yemen SIGNED and LINED...
Publisher: Weidenfeld & Nicolson
Publication Date: 2007
Binding: Hardcover
Book Condition: Fine
Dust Jacket Condition: Fine
Signed: Signed by Author
Edition: 1st 
1st Edition, 1st Printing UK HB. The original 1st Edition of this most enchanting tale. What makes this book collctible & scarce is that it has not only been signed by the author but he has added a small line  from the book "The origins of the Yemen salmon project" and he has dated it 8th February 2007. The book is in fine condition and the jacket is pristine which is very rare as it suffers easily from handling. It has been protected from damage by a removable plastic book cover. 
This is the story of Dr Alfred Jones, a fisheries scientist - for whom diary notable events include the acquisition of a new electric toothbrush and getting his article on caddis fly larvae published in 'Trout and Salmon' - who finds himself reluctantly involved in a project to bring salmon fishing to the Highlands of the Yemen ...a project that will change his life, and the course of British political history forever. With a wickedly wonderful cast of characters - including a visionary Sheikh, a weasely spin doctor, Fred's devilish wife and a few thousand transplanted salmon - Salmon Fishing in the Yemen is a novel about hypocrisy and bureaucracy, dreams and deniability, and the transforming power of faith and love.