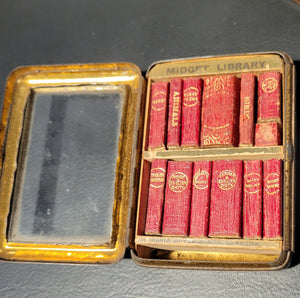 "Midget Library' in original Jahnckes tin, with hinged door
and fitted glass fronted case set in an angled wooden stand.
Soft covers, all 1" x 3/4" except for the New Testament which is 3/4" x 1/2"
Twelve Volume Cased Set on Stand
Pub, David Bryce Glasgow.
Each tiny volume in red morocco with gilt titles to spines and front covers. Contains all 12 volumes as follows.... German English Dictionary: French English Dictionary: English Dictionary: Tourist's Conversational Guide in English French German Italian; Golden Thoughts from Great Authors; The Koran: New Testament: Robert Burns: English Scots and Irish Songs: Animals, Birds. [These final two illustrated in hand tinted colour). All in
good condition with some sign of slight general wear. FINE
 [Bondy 72, 107, 11, 113]
 Sold by a collector in a public auction at Bonhams, 9th November 2022.
#111