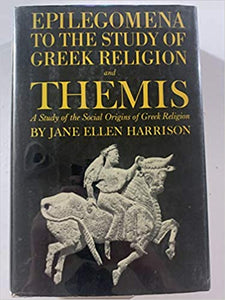 Title: Epilegomena to the Study of Greek Religion, ...
Publisher: University Books
Publication Date: 1962
Binding: Hardcover
Book Condition: Very Good-
Dust Jacket Condition: Good+
Shelf wear to the spine edges and corners. The dust jacket has some chips and tears to the edges.; 9.5 X 6.5 X 1.6 inches; 600 pages.  Harrison, one of the first women known to be a career academic, an early queer feminist who changed the way we view Greek art and mythology, became the central figure of the group known as the Cambridge Ritualists & in 1925 she published her memoirs through Leonard and Virginia Woolf's press, The Hogarth Press. Virginia Woolf quoted Harrison at the beginning of A Room of One's Own.